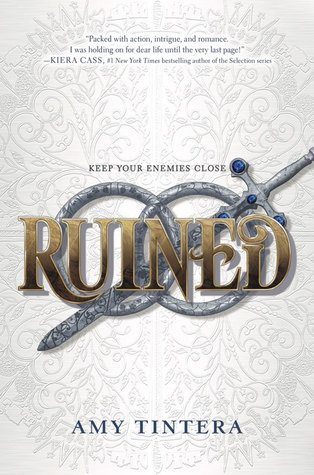 ABOUT THE BOOK:
Emelina Flores has nothing. Her home in Ruina has been ravaged by war. She lacks the powers of her fellow Ruined. Worst of all, she witnessed her parents' brutal murders and watched helplessly as her sister, Olivia, was kidnapped.
But because Em has nothing, she has nothing to lose. Driven by a blind desire for revenge, Em sets off on a dangerous journey to the enemy kingdom of Lera. Somewhere within Lera's borders, Em hopes to find Olivia. But in order to find her, Em must infiltrate the royal family.
In a brilliant, elaborate plan of deception and murder, Em marries Prince Casimir, next in line to take Lera's throne. If anyone in Lera discovers Em is not Casimir's true betrothed, Em will be executed on the spot. But it's the only way to salvage Em's kingdom and what is left of her family.
Em is determined to succeed, but the closer she gets to the prince, the more she questions her mission. Em's rage-filled heart begins to soften. But with her life—and her family—on the line, love could be Em's deadliest mistake.
MY REVIEW:
Although RUINED by Amy Tintera might be just another "same old, same old" YA book, it was an exciting read, nonetheless.
It's true – a lot of YA fantasy is cliche.  I'm waiting for that one book (Someone tell me if it's out there) where the girl says "SCREW LOVE, SCREW BOYS" and fights only for what she believes in and doesn't waver when it comes to her beliefs just because there is a pretty guy in the picture.  Emelina Flores was tough when she first committed murder to get into Lera to find out where her sister was being held.  But, of course, Prince Cas changes all that.
I'm not opposed to romance, not at all!  Everyone wants to fall in love, even tough girls with a mission.  In fact, I really enjoyed this book and am really looking forward to the next two in the series.  Though not exactly original, it was excellently written and I was glued to the pages.  I have hope that in the next book, we will see bad ass Em again – and more of The Ruined, too.  I think that's an interesting aspect of the story and I didn't think we got enough of it.
With a story line that carries a lot of promise and a female lead that I hope to see kick ass in the rest of the trilogy, I give RUINED 4 stars ****.
*I received a copy of this book from Harper Collins Canada in exchange for my honest review*