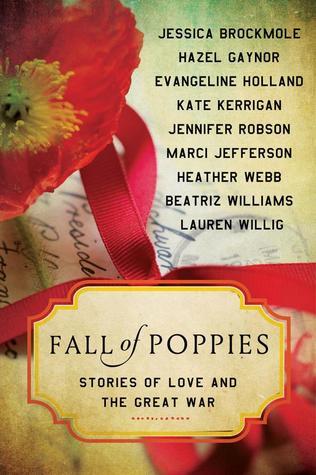 ABOUT THE BOOK:
On the eleventh hour of the eleventh day of the eleventh month…
November 11, 1918. After four long, dark years of fighting, the Great War ends at last, and the world is forever changed. For soldiers, loved ones, and survivors the years ahead stretch with new promise, even as their hearts are marked by all those who have been lost.
As families come back together, lovers reunite, and strangers take solace in each other, everyone has a story to tell.
In this moving anthology, nine authors share stories of love, strength, and renewal as hope takes root in a fall of poppies.
Featuring:
Jessica Brockmole
Hazel Gaynor
Evangeline Holland
Marci Jefferson
Kate Kerrigan
Jennifer Robson
Beatriz Williams
Lauren Willig
Heather Webb
MY REVIEW:
The collection of nine short stories on the pages of FALL OF POPPIES tell tales of love, loss, and strength during wartime.  Some made me cry and some made me cheer – but they all made me feel.
I read this book in one sitting.  It's not often that a book can keep me interested all day (I'm usually reading two or three at a time) and perhaps part of that was was because there were nine stories, but  I think it's also because they were all wonderful, well thought out and well researched stories.  Each chapter (?) was unique and I'd be hard pressed to choose a favourite.  I was familiar with some of the authors before and some I hadn't heard of, but am now a fan, looking forward to reading their other work.  Of course, as is the case with a lot of anthologies, I always wish they were longer as I sometimes feel I didn't get to know the character well enough before the story is over.
With a cohesive collections of stories set during World War 1, I give FALL OF POPPIES 5 stars *****.