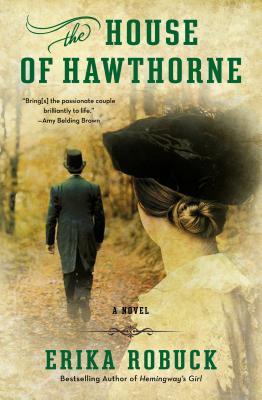 ABOUT THE BOOK:
Beset by crippling headaches from a young age and endowed with a talent for drawing, Sophia is discouraged by her well-known New England family from pursuing a woman's traditional roles. But from their first meeting, Nathaniel and Sophia begin an intense romantic relationship that despite many setbacks leads to their marriage. Together, they will cross continents, raise children, and experience all the beauty and tragedy of an exceptional partnership. Sophia's vivid journals and her masterful paintings kindle a fire in Nathaniel, inspiring his writing. But their children's needs and the death of loved ones steal Sophia's energy and time for her art, fueling in her a perennial tug-of-war between fulfilling her domestic duties and pursuing her own desires.
Spanning the years from the 1830s to the Civil War, and moving from Massachusetts to England, Portugal, and Italy, The House of Hawthorne explores the tension within a famous marriage of two soulful, strong-willed people, each devoted to the other but also driven by a powerful need to explore the far reaches of their creative impulses. It is the story of a forgotten woman in history, who inspired one of the greatest writers of American literature.…
MY REVIEW:
The House of Hawthorne by Erika Robuck is a beautifully written book.  The flow of the writing gave it an almost musical lilt that was very soothing to me.  The writing style fits the period perfectly and, though it was a bit of a slow start for me, I still enjoyed it very much.
It's a fictionalized look at the lives of a real life couple, Nathaniel Hawthorne and Sophia Peabody, who were very much in love with each other.  Their love is very evident on the pages of the book and Robuck does a wonderful job making the passion in their courtship and marriage apparent.  It wasn't all romance, though.  They went through some hard times and had to make sacrifices, like any couple.
Though it is fiction, there is a lot of history in the story.  I loved reading about the relationships with other famous artists and writers who were friends with the Hawthornes.  The places they lived and visited were described vividly and gave me a feel of having seen them myself  in another life.  On top of all that, the cover is GORGEOUS!
This is the second book I've read by Erika Robuck and can now confirm that I'm a huge fan.  I'm looking forward to reading any future books, plus the previous ones I haven't had a chance to devour yet.
*I received an e-copy of this book via NetGalley in exchange for my honest review*