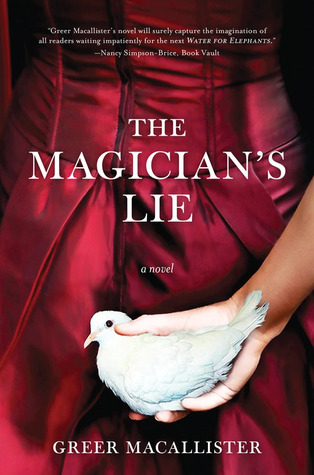 ABOUT THE BOOK:
The Amazing Arden is the most famous female illusionist of her day, renowned for her notorious trick of sawing a man in half on stage. One night in Waterloo, Iowa, with young policeman Virgil Holt watching from the audience, she swaps her trademark saw for a fire ax. Is it a new version of the illusion, or an all-too-real murder? When Arden's husband is found lifeless beneath the stage later that night, the answer seems clear.
But when Virgil happens upon the fleeing magician and takes her into custody, she has a very different story to tell. Even handcuffed and alone, Arden is far from powerless—and what she reveals is as unbelievable as it is spellbinding. Over the course of one eerie night, Virgil must decide whether to turn Arden in or set her free… and it will take all he has to see through the smoke and mirrors.
MY REVIEW:
The Magician's Lie by Greer Macallister is the type of book that once I started, I couldn't have put it down if I was on fire.  It's a mystery and honestly kept me guessing (about a lot of things) until the very end.
Much of the Arden's story is told by her in flashbacks after she is captured by a policeman on suspicion of murder.  But, before he formally arrests her, she wants him to know her story.  And, so it goes back and forth from past to present, her telling him a tale he isn't sure he believes – and I wasn't sure half the time, either!  I think that's what kept me reading.  I needed to know what was truth and what was the lie.  Even now that the book is done, I'm still questioning!
Greer Macallister as written a stunning debut novel with a great cast of characters that you'll love and hate.  Arden is, frankly, captivating from the first page.  The story is so imaginative, showing the author's creative talent right from the start.  The writing is fluid and easy to read.  The only reason I gave the book 4 stars was that I did feel the ending was kind of rushed and I wanted to savor it more.  All in all, a fantastic book and I can't wait to read more by the author.
*I received an e-book copy from the publisher via Netgalley in exchange for my honest review.*