On the ninth day of Book Drunkard's 12 Days of Christmas: Books to read in 2015, Santa gave to me….
Day 9: Martina's Pick
The Silver Witch by Paula Brackston
April 21, 2015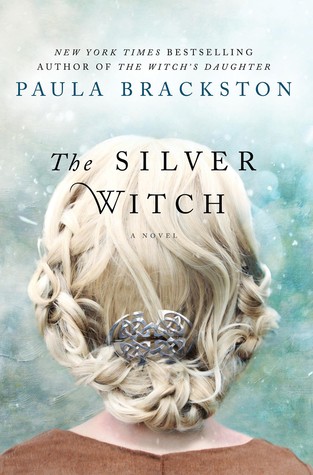 It has been one year since her husband's sudden death and Tilda has moved to a secluded Welsh cottage to overcome her grief. She hoped her new home would end her visions of Mat's death, but instead the lake seems to spark something dormant in her – a sensitivity, and a power of some sort. Animals are drawn to her, electricity shorts out when she's near, and strangest of all, she sees a new vision; a boatful of ancient people approaching her across the lake.
On this same lake in Celtic times lives Seren, a witch. She is respected but feared, kept separate from the community for her strange looks. When a vision comes to her of the Prince in a nest of vipers she warns of betrayal from one of his own. Her loyal Prince believes her, but there are those in his inner circle who would blind him to the danger that lies in wait.
In her own time, Tilda's grief begins to fades with her newfound powers and a fresh love. When she explores the lake's ancient magic and her own she discovers Seren, the woman in her vision of the boat. Their two lives strangely mirror each other's, suggesting a connection between the two women and their powers. As Tilda comes under threat from a dark power, one reminiscent of Seren's prophecy, she must rely on Seren and ancient magic to protect the new life she has come to love.
Erin's Pick (From Flashlight Commentary blog)
Mademoiselle Chanel by C.W. Gortner
March 17, 2015
Born into rural poverty, Gabrielle Chanel and her siblings are sent to orphanage after their mother's death. The sisters nurture Gabrielle's exceptional sewing skills, a talent that will propel the willful young woman into a life far removed from the drudgery of her childhood.
Transforming herself into Coco—a seamstress and sometime torch singer—the petite brunette burns with ambition, an incandescence that draws a wealthy gentleman who will become the love of her life. She immerses herself in his world of money and luxury, discovering a freedom that sparks her creativity. But it is only when her lover takes her to Paris that Coco discovers her destiny.
Rejecting the frilly, corseted silhouette of the past, her sleek, minimalist styles reflect the youthful ease and confidence of the 1920s modern woman. As Coco's reputation spreads, her couturier business explodes, taking her into rarefied society circles and bohemian salons. But her fame and fortune cannot save her from heartbreak as the years pass. And when Paris falls to the Nazis, Coco is forced to make choices that will haunt her.
An enthralling novel of an extraordinary woman who created the life she desired, Mademoiselle Chanel explores the inner world of a woman of staggering ambition whose strength, passion and artistic vision would become her trademark