On the eighth day of Book Drunkard's 12 Days of Christmas: Books to read in 2015, Santa gave to me….
Day 8: Martina's Pick
A Desperate Fortune by Susanna Kearsley
April 7, 2015.
For nearly 300 years, the mysterious journal of Jacobite exile Mary Dundas has lain unread — its secrets safe from prying eyes. Now, amateur codebreaker Sara Thomas has been hired by a once-famous historian to crack the journal's cipher. But when she arrives in Paris, Sara finds herself besieged by complications from all sides: the journal's reclusive owner, her charming Parisian neighbor, and Mary, whose journal doesn't hold the secrets Sara expects.
It turns out that Mary Dundas wasn't keeping a record of everyday life, but a first-hand account of her part in a dangerous intrigue. In the first wintry months of 1732, with a scandal gaining steam in London, driving many into bankruptcy and ruin, the man accused of being at its center is concealed among the Jacobites in Paris, with Mary posing as his sister to aid his disguise.
When their location is betrayed, they're forced to put a desperate plan in action, heading south along the road to Rome, protected by the enigmatic Highlander Hugh MacPherson.
As Mary's tale grows more and more dire, Sara, too, must carefully choose which turning to take… to find the road that will lead her safely home.
Jessica's Pick (From Jessica Jewett Online blog)
Spy of Richmond (Heroines Behind the Lines: Civil War #4) by Jocelyn Green
March 1, 2015.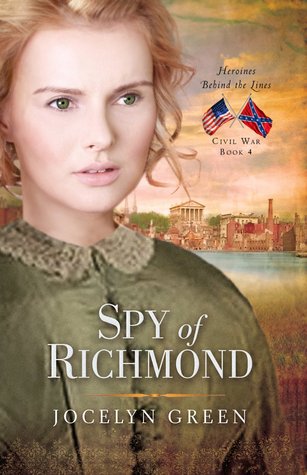 Richmond, Virginia, 1863. Compelled to atone for the sins of her slaveholding father, Union loyalist Sophie Kent risks everything to help end the war from within the Confederate capital and abolish slavery forever. But she can't do it alone.
Former slave Bella Jamison sacrifices her freedom to come to Richmond, where her Union soldier husband is imprisoned, and her twin sister still lives in bondage in Sophie's home. Though it may cost them their lives, they work with Sophie to betray Rebel authorities. Harrison Caldwell, a Northern freelance journalist who escorts Bella to Richmond, infiltrates the War Department as a clerk-but is conscripted to defend the city's fortifications.
As Sophie's spy network grows, she walks a tightrope of deception, using her father's position as newspaper editor and a suitor's position in the ordnance bureau for the advantage of the Union. One misstep could land her in prison, or worse. Suspicion hounds her until she barely even trusts herself. When her espionage endangers the people she loves, she makes a life-and-death gamble.
Will she follow her convictions even though it costs her everything-and everyone-she holds dear?