A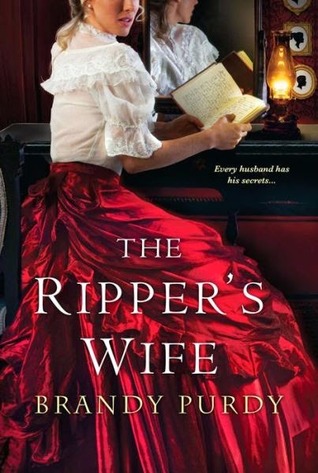 BOUT THE BOOK:
It begins as a fairytale romance-a shipboard meeting in 1880 between vivacious Southern belle Florence Chandler and handsome English cotton broker James Maybrick. Courtship and a lavish wedding soon follow, and the couple settles into an affluent Liverpool suburb.
From the first, their marriage is doomed by lies. Florie, hardly the heiress her scheming mother portrayed, is treated as an outsider by fashionable English society. James's secrets are infinitely darker-he has a mistress, an arsenic addiction, and a vicious temper. But Florie has no inkling of her husband's depravity until she discovers his diary-and in it, a litany of bloody deeds.
MY REVIEW:
I am not what one would call fluent when it comes to Jack the Ripper.  I, of course, have heard of him and knew that it was a big mystery as to who he actually was.  I didn't really think about him ever having a wife and family, though, so this book intrigued me from the start.
This is the first book I've read by Brandy Purdy.  She's a good writer.  The book flowed well and was easy to read.  I didn't become bored with the story at any point which is always a plus.  The characters were hard to like.  I don't think it's the fault of the author, though.  Neither of the main characters were very nice people!  James' brothers were horrid, Florie's mother was horrid, their friends were horrid, and the children turned out horrid.  The whores the Ripper killed were the most likable of the entire lot!
The book is broken into parts with Florie telling her story at the beginning and end and James telling his through diary entries in the middle.  Many parts of the book, mainly the diary, are VERY graphic.  From the language (the c-word is said a lot…  really a lot), to the sex and violence, the book isn't for the weak of heart or stomach.  It personally doesn't bother me and, I mean, it IS about Jack the Ripper and he was demented.  So, I'm glad Brandy Purdy didn't back down and tame down the writing.  The end of the book was only okay for me.  The parts where Florie is rebuilding her life after…  everything…  seemed rushed at times.
All in all, it was a pleasant experience and a fast read.  I'll definitely read another book by this author.
*I received an e-book copy of this book from Netgalley in exchange for my honest review*