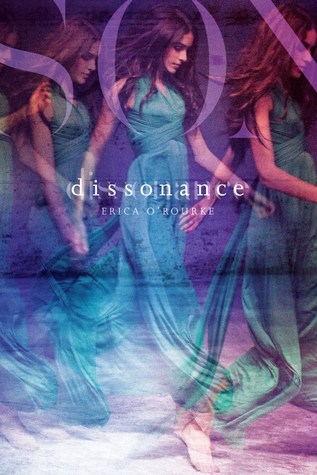 Delancy Sullivan has always known there's more to reality than what people see. Every time someone makes a choice, a new, parallel world branches off from the existing one. Eating breakfast or skipping it, turning left instead of right, sneaking out instead of staying in bed ~ all of these choices create an alternate universe in which an echo self takes the road not travelled and makes the opposite decision. As a Walker, someone who can navigate between these worlds, Del's job is to keep all of the dimensions in harmony.
Normally, Del can hear the dissonant frequency that each world emits as clear as a bell. But when a training session in an off-key world goes horribly wrong, she is forbidden from Walking by the Council. But Del's not big on following the rules and she secretly starts to investigate these other worlds. Something strange is connecting them and it's not just her random encounters with echo versions of the guy she likes, Simon Lane.
But Del's decisions have unimaginable consequences and, as she begins to fall for the Echo Simons in each world, she draws closer to a truth that the Council of Walkers is trying to hide ~ a secret that threatens the fate of the entire multiverse.
MY REVIEW:
DISSONANCE by Erica O' Rourke is a sci-fi YA novel that is way out of the box I usually read in.  I've been broadening my reading horizons lately and I'm really glad for that because I've been finding some really great books!
This story of parallel worlds, Walkers, Echoes, and dissonant frequencies is brilliantly told and unlike anything I've read before.  Erica O'Rourke brings this smart world to life vividly and makes it easy to understand a place that is technical and scientific and totally unlike our own world.  On top of that, the unpredictability of the story line kept me wondering how it was all going to end.  Needless to say, I'm really excited for the next book in the series!
I also want to quickly mention the cast of characters.  Ohh, how much I enjoy Del!  She can be reckless, but she's determined – and willing to do anything it takes no matter how tough the task.  Simon is fantastic and ends up being totally different than I thought he'd be.  Del's sister and grandfather brought so much to the story.  I loved how each person developed as the story went on, each of them growing somehow.
Thank you to Simon & Schuster Canada for sending me a copy of this fantastic book to read in exchange for my honest review.