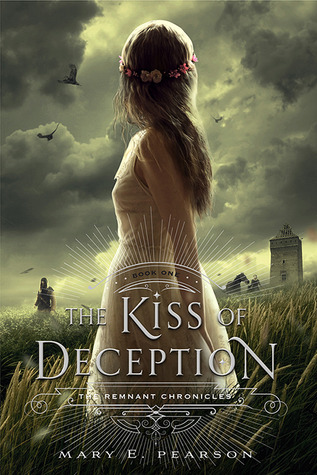 In this timeless new trilogy about love and sacrifice, a princess must find her place in a reborn world.
In a society steeped in tradition, Princess Lia's life follows a preordained course. As First Daughter, she is expected to have the revered gift of sight—but she doesn't and she knows her parents are perpetrating a sham when they arrange her marriage to secure an alliance with a neighboring kingdom—to a prince she has never met.
On the morning of her wedding, Lia flees to a distant village. She settles into a new life, hopeful when two mysterious and handsome strangers arrive—and unaware that one is the jilted prince and the other an assassin sent to kill her. Deception abounds, and Lia finds herself on the brink of unlocking perilous secrets—even as she finds herself falling in love.
MY REVIEW:
While KISS OF DECEPTION is labeled Young Adult, it will appeal to readers of all ages as I can attest.  Having been thirty-something for several years now, I have often shied away from YA books in years past, believing that they were all fluff, no substance.  Not true at all and this book is a wonderful example.
With book 1 in The Remnant Chronicles, Mary E. Pearson has woven a fantastic tale full of adventure, suspense, love, and deception – of course.  The main female character, Lia starts out a bit naive, but soon she grows into a strong person who does what she wants, fights for what she thinks is right – and she's smart, too.   The two guys she becomes involved with are totally different and I wasn't even sure who I was rooting for!  An interesting twist to the story (I thought) is that one of them is a prince and one is an assassin.  But, we don't know which by name!  It had me guessing right up until the point it was revealed who was who.
Oh my goodness, what a cliffhanger we are left with.  I cannot wait until the next book in the trilogy to be released so I can learn the fate of all the characters involved.
I received this book from Netgalley in exchange for my honest review.