BOOK SUMMARY: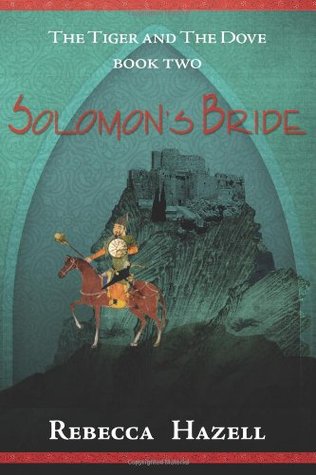 Solomon's Bride is the dramatic sequel to The Grip of God. Sofia, the heroine, a former princess from Kievan Rus' was enslaved by a Mongol nobleman and then taken as a concubine by the leader of the Mongol invasions, Batu Khan, grandson of Genghis Khan. Now, having fled the Mongols with a price on her head, Sofia escapes into Persia and what she believes will be safety, only to fall into the clutches of the Assassins, who seek to disrupt the Mongol empire. In a world at war, both outer and inner, the second phase of her adventures unfolds. Can she ever find safe haven, much less the lost love and family that was almost destroyed by the Mongols?
MY REVIEW:
We first meet our heroine, Sofia, in Rebecca Hazell's book THE GRIP OF GOD and her saga continue in this second book of the trilogy, SOLOMON'S BRIDE.  Set in the 13th century, it has all the adventure and excitement you expect from an excellent book of Historical Fiction – and then some!
Rebecca Hazell is a wonderful writer who really knows how to put her reader into the thick of things, seeing things through the eyes of the character and giving us a true feeling of what life might have been like back then.  She is very descriptive writer and I always appreciate it when an author is as good at it as she is.  And, as always, I love a strong female lead.
SOLOMON'S BRIDE isn't just some run of the mill fiction telling of historical events.  It has substance and grit and goes deep to the core where some other books in the genre fall short.  It's told like it was with no sugar coating.  Reading Rebecca's book (and the one before it) have given me a new found appreciation for Historical Fiction.
Come visit my blog tomorrow for a wonderful guest post from Rebecca Hazell.  And for more reviews, giveaways, and guest posts, check out other stops on the blog tour.
Thursday, May 15 – Pen and Paper (review of The Grip of God – Book One) and The True Book Addict (review of The Grip of God)
Monday, May 19 – Must Read Faster
Tuesday, May 20 – Historical Fiction Connection
Wednesday, May 21 – She is Too Fond of Books
Thursday, May 22 – My Book Addiction and More
Wednesday, May 28 – The True Book Addict
Friday, May 30 – Create with Joy
Monday, June 2 – Book Drunkard
Tuesday, June 3 – Book Drunkard
Wednesday, June 4 – Kellie's Reading Nook
Thursday, June 5 – Oh, For the Hook of a Book
Monday, June 9 – Kellie's Reading Nook
Tuesday, June 10 – History from a Woman's Perspective
Wednesday, June 11 – History from a Woman's Perspective
Thursday, June 12 – Pen and Paper and Princess of Eboli
Friday, June 13 – Pen and Paper and Princess of Eboli and Must Read Faster